Summary
In this presentation Dr Fortin will talk about transitioning from microarray to the SureSeq™ CLL + CNV NGS panel, and how the SureSeq CLL + CNV NGS Panel delivers a comprehensive genomic profile for each chronic lymphocytic leukaemia (CLL) sample using a single workflow, including trisomy 12, 11q, 13q and 17p deletions.
Speaker bio
Fléchère Fortin, PhD, FCCMG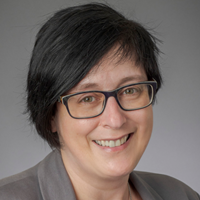 Scientific Director, Cytogenetics laboratory, Medical Genetics Division, CIUSSS de l'Estrie -CHUS
Dr Fortin began her scientific career as a lab technologist in cytogenetics in 1997. She fell in love with this scientific discipline and decided to pursue her education in cytogenetics further. She completed her PhD in pathology and cell biology (option: Cytogenetics) at Universite de Montreal (Quebec, Canada) in the field of chemical carcinogenesis, in 2011. Her research project aimed at evaluating in vitro chromosomal and DNA damage induced by benzo-a-pyrene exposure of human lymphocytes.
After her PhD, a clinical fellowship in cytogenetics from the Canadian College of Medical Geneticists (CCMG) done at McGill University (Quebec, Canada) followed. As part of this fellowship, she worked to implement FFPE-FISH in lung cancer, participating in the Canadian Anaplastic Kinase study.
Dr Fortin started to work as a Scientific Director of the Cytogenetics lab within the Medical Division of Sherbrooke University Health Center (Quebec, Canada) in 2013. Rapidly, she implemented HER2 FISH testing, a chromosomal breakage assay for Fanconi anemia and lymphoma tissue FISH testing. Additionally, she transitioned prenatal interphase FISH assay to a molecular assay for rapid aneuploidy testing, validated aCGH in oncology for acute lymphoblastic leukaemia (ALL) and CLL and automated GTG metaphase capture. Always interested in new technologies and streamlining laboratory workflows, she recently started to collaborate on the development of implementing NGS-based copy number variation (CNV) assays in the lab, as a replacement for aCGH in constitutional and oncology applications. These tests are now being validated in the lab and are expected to be clinically offered by the end of 2020.
SureSeq: For Research Use Only; Not for Use in Diagnostic Procedures.