Easy-to-use CytoCell Tissue Pretreatment Kit rescues samples and saves time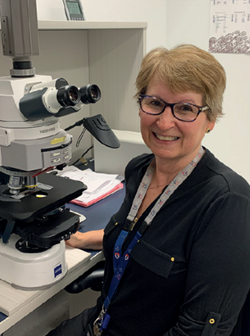 Any lab working with FFPE (formalin-fixed, paraffin-embedded) tissue samples for FISH (fluorescence in situ hybridisation) will know that this type of sample can be problematic and deliver highly variable results. Differences in the fixation process, type and density of the tissue or age of the sample can all cause issues with the vital pretreatment process that reverses the formalin fixation cross links and digests tissue components to allow probe access to target DNA. Failure to optimally digest these tissues results in poor or even no results, and 'homebrew' pretreatment solutions can often become overly complicated, plus time and labour intensive.
OGT's CytoCell® Tissue Pretreatment Kit uses optimised, ready-to-use reagents in a simple two-stage FFPE slide preparation protocol to increase  the permeability of cell membranes and facilitate penetration of FISH or CISH DNA probes. We spoke to Carmen Vokaty, Assistant-Chief Medical Technologist in Cytogenetics at the McGill University Health Centre, about how her lab incorporated the kit into its workflow after struggling with a homebrew solution. She explains how the kit revolutionised her lab's pretreatment process and the quality of FISH results, enabling the lab to save time, increase capacity and dramatically reduce the need to repeat samples, if any non-retrievable tissue were still available.