Introduction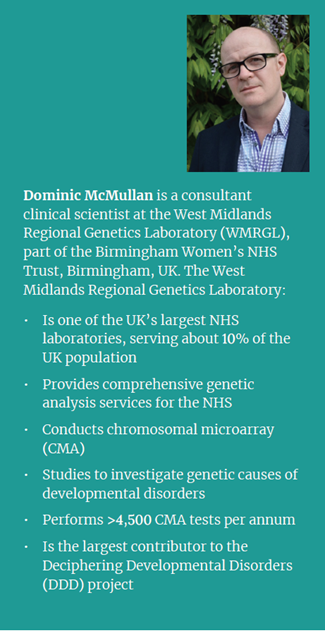 Investigation of exon-level resolution microarray technology for the identification of important mutations in clinical genetics research.
A vital aspect of clinical genetics research is the accurate and reliable detection of genetic aberrations, such as copy number variation (CNV) and loss of heterozygosity (LOH), particularly in the study of developmental disorders. Next generation sequencing (NGS) technology struggles to detect structural aberrations reliably and, as such, array comparative genomic hybridisation (aCGH) remains the gold standard for CNV detection1.
The use of microarray technology, however, is only as effective as the pace it keeps with ongoing discoveries in genetics. Content needs to be up to date to ensure the continued targeting of the most disease-relevant regions. The majority of commercially available arrays offer gene-level resolution, enabling the identification of CNVs containing whole gene or multiple exon variation. However, this level of resolution is often insufficient, as it does not allow researchers to associate different phenotypes with smaller (exonic) aberrations within a given gene. To do this, exon-level resolution is required, which has traditionally necessitated the use of custom ultra-high resolution arrays at greater expense. The ability to use exon-level resolution routinely would therefore be a real advantage in clinical genetics research.
We conducted a comparative study of a number of array platforms. These included the OGT CytoSure® Constitutional v3 8x60k (containing up to 60,000 60-mer probes), Platform I 8x850k (containing up to 850,000 50-mer probes), and Platform A 750k (containing up to 750,000 25- mer probes) arrays, which were assessed for detection rate, ease of analysis, throughput and cost.