Introduction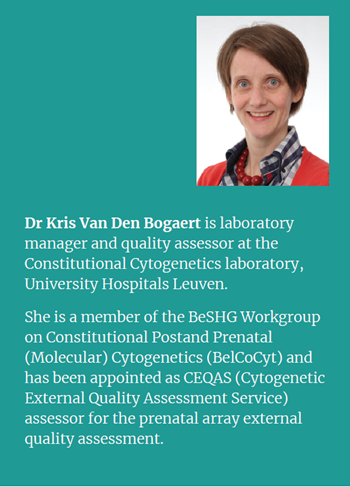 Even when considering the emergence of next generation sequencing technologies, array comparative genomic hybridisation (aCGH) remains a staple of the modern clinical genetics research laboratory, detecting with ease and confidence the genetic aberrations linked to many developmental disorders.
The astonishing pace of genetic discoveries means that novel disease-relevant variants are frequently coming to light in the scientific literature. Microarrays must therefore be routinely updated, as published genetic discoveries guide the content focus towards the most insightful regions. One such microarray is the CytoSure® Constitutional v3 platform from Oxford Gene Technology (OGT), which provides enhanced exon-level coverage of developmental disorder genes1. This is based on a combination of the most up-to-date and relevant content from the recent Deciphering Developmental Disorders (DDD) study2 and latest updates from ClinGen*, the Clinical Genome Resource3. The highly disease-relevant content combined with single-exon copy number variation (CNV) resolution is a key reason why many genetics laboratories are choosing to utilise this platform — including the Constitutional Cytogenetics laboratory, University Hospitals Leuven (Belgium).
An important factor when considering the capabilities of microarray technology is the data quality, and it is vital that scientists have absolute confidence when reporting a variant. As such, quality control is of utmost importance at the Constitutional Cytogenetics laboratory, which actively participates in the Cytogenetic External Quality Assessment Service (CEQAS) programme for ensuring optimum quality standards. The laboratory also forms part of the Belgian Society for Human Genetics (BeSHG) Workgroup on Constitutional Post- and Prenatal (Molecular) Cytogenetics, supporting the optimisation of working guidelines in Belgium and across Europe.
As part of the Centre for Human Genetics, the Constitutional Cytogenetics laboratory, led by Professor Joris Vermeesch, has been using OGT's CytoSure microarrays since 2009, and have adopted the CytoSure Constitutional v3 array for prenatal and postnatal genetic research. As part of implementing the new array platform, thorough validation ensures results meet the high quality standards required. Interestingly, following a comprehensive validation of OGT's Constitutional v3 array, significant advantages have also been revealed. Laboratory manager and quality assessor at the Constitutional Cytogenetics laboratory, Dr Kris Van Den Bogaert, discusses these advantages and the process of implementing the new CytoSure Constitutional v3 array.