At OGT, we're passionate about partnership. That's why we work in collaboration with all our customers to support them throughout their entire fluorescence in situ hybridisation (FISH) clinical diagnostic and research journey. This core value is central to our mission to drive progress in the development of novel FISH-based applications, work towards their deployment in the clinic, and advance genetic-based medicine.
By fostering partnerships with our customers, we help them to achieve the best possible results from their OGT portfolio, including their CytoCell® FISH probes. Through sharing our expertise and taking a hands-on approach, we work together to standardise processes in order to garner quality results. There are numerous ways in which we support our customers through their FISH testing, but none demonstrate our commitment to our customers more than our Field Application Scientist (FAS) team.
Supporting FISH around the globe, our team of Field Application Scientists visit customers to demonstrate products and work side-by-side with other cytogeneticists to achieve optimal performance from every FISH assay. What's more, this service is free of charge for all OGT customers. In this blog, we will highlight the value of service that our FAS North American team provides and our commitment to providing technical customer support so that every customer can generate the best possible FISH results.
Meet the OGT FAS Team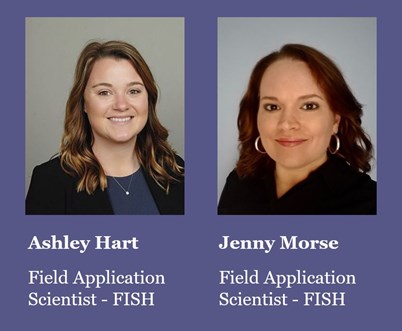 Covering the North America region, Ashley Hart and Jenny Morse are OGT's Field Application Scientists dedicated to the CytoCell FISH portfolio. Their role is very much hands-on, travelling from coast-to-coast to support FISH projects of all sizes. Every Field Application Scientist at OGT must have comprehensive technical expertise and real-world lab FISH experience, both Ashley and Jenny are no exception:
"Prior to joining OGT, I spent 16 years working in a clinical cytogenetics lab, performing everything from wet lab applications, to chromosome analysis, to FISH set up and analysis, so I have a lot of practical experience behind me," said Jenny.
Ashley added, "Before working as a Field Application Scientist, I was on the wet bench at a very high-volume reference lab in North Carolina, where I took on the role of validation lead. This meant I was in charge of validating all of the new probes that the lab was bringing on."
Because of their extensive clinical backgrounds, our FAS team understands the many challenges faced by our customers. In their day-to-day roles, Jenny and Ashley perform a wide variety of tasks to meet every customer's needs and help them overcome obstacles. Some of the services that the FAS team regularly provides include:
Providing demonstrations and helping with setup of new probes/products
Implementing new probes and processes to adjust to a new sample type
Standardising processes and workflows to ensure consistency
Helping to troubleshoot any issues in a FISH setup or workflow
Educational visits (e.g., "Lunch & Learn" sessions)
According to Jenny, the OGT FAS team are used to adapting to meet site-specific needs. "We regularly go on-site to deliver demos, help to resolve issues and much more – it really just depends on the customer's needs and where the customer wants us to focus."
"There's always something that comes out of the blue while we're on site, so we always have to be very adaptable, flexible, and be able to pivot on-site to give the best support and the best quality results," added Ashley.
What to expect during a site visit
If you are a current or prospective OGT customer, you may be curious as to how our on-site visits work, and what you can expect during a visit from our FAS team. Setting up a visit is easy and arranged through multiple channels, including:
Through our CytoCell support system
Via your account manager
Direct phone/email contact with the FAS team
Once you have contacted us via any of these channels, the FAS team will begin liaising and preparing for their visit.
"Quite a bit goes into our pre-visit prep, especially if an issue isn't immediately clear. For new customers, Jenny and I like to really dive in to discover what their needs are. We like to see what their current FISH portfolio looks like – that way we can gauge if they have experience with CytoCell probes, see what they're doing and what their processing looks like – then we can begin to build a plan of action," said Ashley.
Once the objectives of the visit have been determined, the FAS team will work with you to schedule the best time for the visit to take place, then arrange for all reagents and probes to be delivered in advance of the site visit. A typical site visit takes place over three days with the following being a loose agenda:
Day 1: Lab tour, equipment checks, sample processing, and possibly host an educational "Lunch & Learn" for the lab.
Day 2: Check FISH results and see if optimisation is needed.
Day 3: Re-run samples to confirm reproducibility.
While our on-site visits generally follow this 3-day agenda, we recognise that every customer has unique requirements, and the FAS team will adapt to make sure that each visit is productive and resolute.
Our partnership in action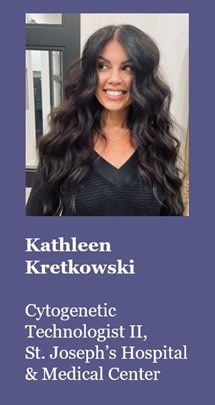 Someone who has experienced the value of service provided by our FAS team first-hand is Kathleen Kretkowski, who is based at St. Joseph's Hospital & Medical Center, Phoenix, Arizona, USA, and recently needed help from our FAS team.
Kathleen found herself in a time-sensitive situation: she needed to set up a new panel and the probes that she purchased from another vendor had already expired. When the vendor failed to respond to multiple calls for help, Kathleen decided it was time to cut her losses and approach OGT for some replacement probes.
"My OGT team responded within an hour of my SOS, not only with a plan that would suit my needs but had these probes ready to ship," said Kathleen, who praised the high level of expertise and knowledge in the FAS team.
"OGT's support and customer service has come through for me yet again! The customer service they provide is sadly almost unheard of these days, but they knocked it out of the park as always. Due to the high level of support, reliability, and responsiveness, we'll be migrating ALL of our probes to OGT. No one out there, past or present, has matched the customer service and expertise that this team has."
Our ongoing commitment
We commit to working along-side you in partnership, every step of the way, to ensure that you can get the best results from every FISH assay. This partnership endures beyond a purchase, email exchange, or a site visit – we take a keen interest in making sure our customers receive the best advice and guidance to ensure success. By working together in this fashion, we can drive progress in genetic-based medicine and advance FISH applications to answer unmet clinical needs.
The OGT FAS team is just one element of this support and is a great way to build enduring relationships with our customers:
"Our favourite part of the job is getting to talk to people. When Ashley and I go on-site, it helps us build a long-lasting relationship with our customers. We really feel like a part of their team. By stepping into their laboratory and showing them the support that OGT can provide through standardisation, quality improvements, and time saving measures, we feel a huge sense of achievement. In the end, we're really just striving to improve patient care," said Jenny.
Are you ready to embrace the spirit of partnership?
Why not contact us today to begin your FISH journey? Contact our support team