CytoCell FISH probes: adding to the FISH menu at CellNetix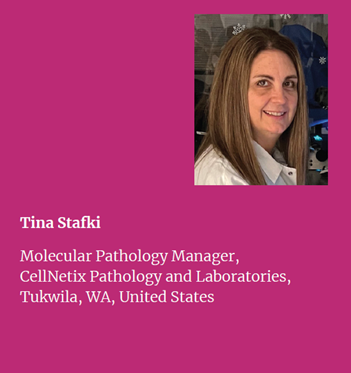 Pathology laboratories worldwide rely on cytogenetic technologies like fluorescence in situ hybridisation (FISH) to detect acquired genetic abnormalities implicated in different cancer types. In conjunction with other clinical information, these genetic aberrations may provide healthcare providers with insight into their patients' diagnosis, prognosis, and therapeutic decisions. FISH is a powerful method that can help pathologists detect and visualise the spatial positions of specific genetic abnormalities. Its high sensitivity and specificity as well as the speed at which it can deliver results have established FISH as a go-to assay for a wide range of genetic diseases and disorders.
We spoke to Tina Stafki, Molecular Pathology Manager at CellNetix Pathology (Tukwila,Washington), about how she got hooked on FISH early on in her career, how she uses FISH in the CellNetix pathology lab to help patients and clinicians across the Pacific Northwest, and why CytoCell® FISH probes from OGT are her first choice when it comes to FISH probes.