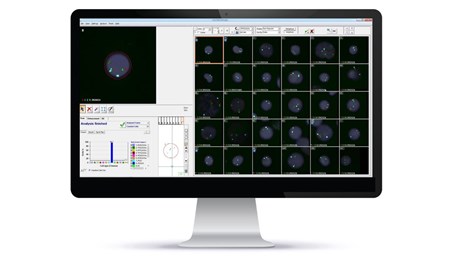 Oxford, UK – 27 June 2023. OGT, a Sysmex Group Company and leading global provider of clinical research and diagnostic solutions, announces a new commercial partnership with Applied Spectral Imaging (ASI), a global leader in advanced biomedical imaging with a comprehensive product portfolio for karyotyping, H&E, IHC and FISH analysis. The agreement will grant OGT rights to market ASI's proprietary cytogenetic imaging and analysis solutions in Great Britain, establishing a strategic partnership that combines the strengths of OGT's CytoCell® FISH portfolio with ASI's imaging and analysis capabilities to deliver operational efficiency in end user's laboratories.
CytoCell FISH probes from OGT have long been established as best-in-class products for detecting key genetic aberrations for a wide range of sample types. The customisable CytoCell portfolio includes their flagship haemato-oncology offering, as well as probes to support work in constitutional genetics and solid tumour oncology. The CytoCell range also includes FAST FISH assay solutions, designed for the rapid and accurate detection of the most urgent disorders and earlier this year, eight CytoCell FISH probes were the first to be granted IVDR certification.
ASI's product portfolio includes an extensive range of IVDR compliant cytogenetic imaging and analysis solutions enabling chromosome analysis and karyotyping, digital FISH diagnostics and automated imaging. The company's proprietary technology provides laboratories with end-to-end solutions from slide scanning and imaging, to quantitative analysis, reporting and LIMS connectivity. HiFISH™ is ASI's digital FISH analysis platform that combines automated FISH scanning and capture with real-time analysis for augmented FISH analysis of haematological and solid tumour samples.
The combination of best-in-class products from these two organisations for a complete FISH in vitro diagnostic workflow, will ensure an enhanced experience for end users, enabling them to benefit to the full extent from the expertise and collaboration delivered by this new partnership. The comprehensive workflow delivers on everything from high-quality FISH probes to AI-powered FISH scanning and quantitative analysis resulting in increased throughput and efficiency of FISH analysis.
Speaking about the new commercial partnership, Adrian Smith, CEO of OGT noted, "I'm very excited to be announcing OGT's new partnership with ASI, whose imaging and analytics can unlock the clinical and diagnostic potential of OGT's CytoCell FISH probes, including our newly certified IVDR probes. This expanded offering will provide improvements in workflow automation and overall efficiency, enabling faster diagnostic decision making. With the shared goal of advancing genetic clinical care, together we can help to drive the diagnostic capabilities of FISH, and aid clinical decision makers to reach the right diagnosis more often, helping patients to live longer, healthier lives."
"ASI's imaging and analysis platforms will provide automation, advanced algorithms and image analysis capabilities to realise the full potential of the reliable and easy to use DNA probes." said Limor Shiposh, Chief Executive Officer of ASI. "ASI is excited to partner with OGT and complete its existing imaging offering with OGT's unique set of high-quality probes. The combined availability of ASI's platform and OGT's CytoCell probes will benefit clinical laboratories, companies and research institutions, enhancing their capabilities to perform comprehensive genomic structural measurements and improve diagnostic accuracy." Mrs. Shiposh added.
Learn more about our partnership with ASI
About OGT
OGT, a Sysmex Group company, is a leading global provider of clinical and diagnostic genomic solutions that are created for scientists by scientists - including CytoCell, CytoSure and SureSeq ranges of FISH, microarray and NGS products. The company is dedicated to creating products that enable researchers and clinical decision makers to reach the right care decisions for each patient, every time. OGT strives to unlock the future of genetic clinical care with a commitment to working in partnership with its customers - not only by sharing its expertise of 25 years at the forefront of genetic endeavour, but also by working closely with scientists to understand their unique challenges, and to customise its approach to meet their exact needs. Dedicated to improving clinical care, OGT believes that through partnership—together—we'll achieve more.
CytoSure®, SureSeq™ and myProbes®: For Research Use Only, not for use in diagnostic procedures. CytoCell®: Some products may not be available in your region.
About Sysmex Corporation
Sysmex Corporation is a world leader in clinical laboratory systemization and solutions, including laboratory diagnostics, laboratory automation and clinical information systems. Serving customers for more than 55 years, Sysmex focuses on technological leadership in diagnostic science and information tools that make a difference in the health of people worldwide. The company is also exploring emerging opportunities in the life science field. Its R&D efforts focus on the development of high-value-added testing and diagnostic technologies that are innovative, original and optimize individual health. Sysmex also seeks to leverage its state-of-the-art technologies for cell, gene and protein analysis. The company, headquartered in Kobe, Japan, has subsidiaries in North America, Latin America, Europe, the Middle East, Africa, China and Asia Pacific and employs more than 10,000 employees worldwide. Sysmex Corporation is listed in the Prime Market of the Tokyo Stock Exchange.
For more information about Sysmex Corporation and its affiliate companies, please visit www.sysmex.co.jp/en/.
About Applied Spectral Imaging
Applied Spectral Imaging (ASI) is a global leader in biomedical imaging with a comprehensive product portfolio for brightfield, fluorescence and spectral samples. The Company's advanced technology provides Pathology, Cytogenetics and Research laboratories with end-to-end solutions from slide scanning and imaging, to quantitative analysis, reporting and Laboratory Information Systems' connectivity.
The platforms are FDA cleared for BandView Karyotyping, FISHView, SpotScan for CEP XY, UroVysion, ALK and HER2/neu FISH, and HiPath for IHC Family: HER2, ER, PR and Ki67.
Founded in 1993, ASI develops, markets, services and supports its products in more than 80 countries. The Company has offices in the USA and Asia and reaches worldwide coverage through a network of distribution partners. For more information, visit www.spectral-imaging.com or e-mail sales@spectral-imaging.com.