Fluorescence in situ hybridisation (FISH) is a cytogenetic technique that can detect specific sites of DNA sequences in metaphase or interphase cells.
Chromosomal aberrations detected by FISH
In this video learn more about the different chromosomal aberrations detected by FISH.
Examples of common FISH signal patterns
View common deletion, breakapart, amplification and translocation signal patterns.
Deletion probes: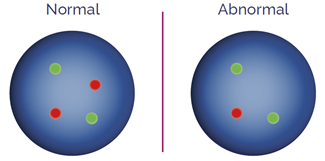 Dual-colour breakapart probes:

Deletion/fusion probes:

Tri-colour breakapart probes:

Amplification probes:
Translocation, dual fusion probes: